June 7-9, 2024
For-rest Retreat is located in Salmo, BC. Thirty minutes South of Nelson.
We are so excited to announce new 2024 dates for the Women's Mountain Biking & Yoga retreat at For-rest Retreat!
Enjoy a full weekend of riding and honing your mountain bike skills and maintenance skills, yoga classes, meditation, sound immersion, local and organic meals, sauna time and much more!
Friday, June 7: starting at 5pm
We will start the weekend off right with a bike maintenance workshop, followed by Wood-fired Pizza, salads and Kombucha. Get to know your sister shredders in a casual and relaxed environment. We will have a fire going for evening social time (pending any fire bans).
Saturday, June 8: 8:00 am – evening
After having breakfast on your own, we will start the morning with a yoga flow & guided meditation in the yurt, followed by free time to get ready for the ride and pack a lunch and snacks (provided). We will then gather at 10:30 am and drive out to some local trails where you will work on your skills with professional coaches, Natasha Locke and one of the other KMC coaches. After 3 hours of skills coaching, we will head back to For-rest Retreat, change/shower and then enjoy a late afternoon mellow yoga & stretch session, ending with a sound healing extended Shavasana. After yoga we will gather for a taco bar, social time around a fire and the sauna will be lit for anyone wanting to use it.
Sunday, June 9: 8:00 am – 4:00pm
We will meet at 8:00 am for morning yoga and guided meditation to start our day once again. We will then break to pack our lunches (provided) get ready for our second skills clinic which will take place on the trails right at For-rest Retreat. Bike skills workshops will go until 1pm. We will then break for lunch and either have free time to relax or head out for a group ride at the Salmo Ski Hill to end the weekend.
Cost: $545 earlybird (before March 30)
$645 after March 30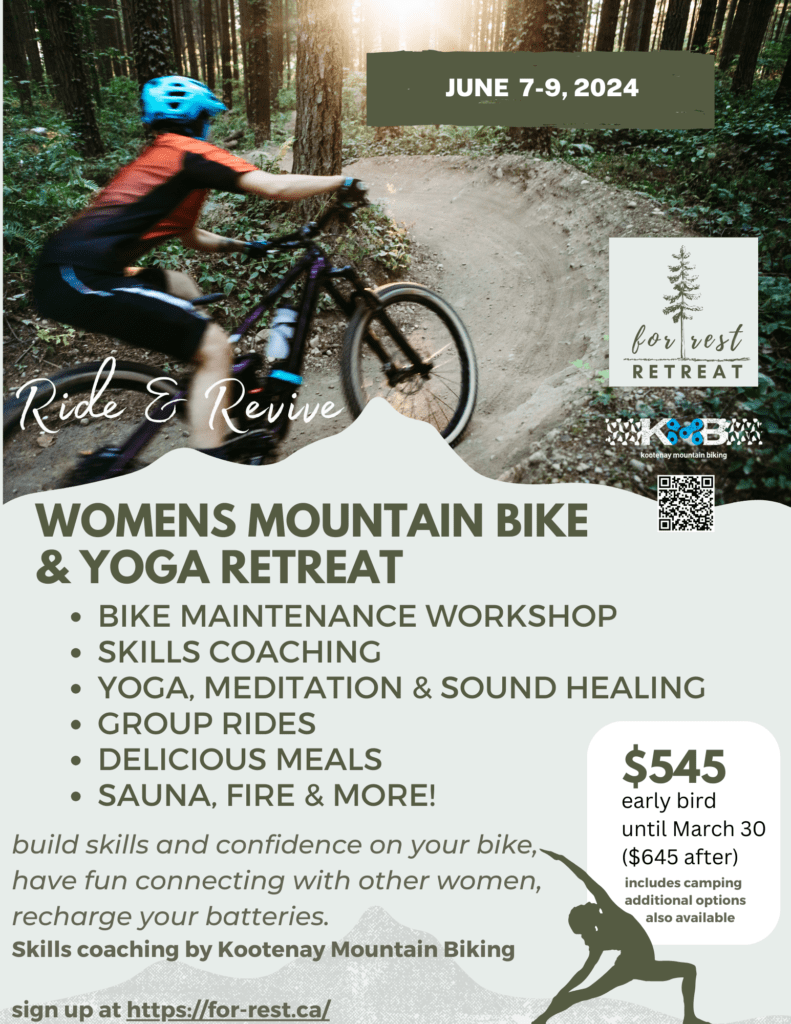 Included in the fee:
Bike maintenance workshop
Friday & Saturday Dinner
Saturday and Sunday lunch/snacks
2 – 3 hour coaching sessions (6 hours total)
3 yoga classes
2 guided morning meditations
sound healing Shavasana
Sunday group ride
camping at For-rest Retreat
Optional accommodation upgrades.
Don't want to camp? We have 4 beds available in our off-grid cabin for $40/night/person. Shared kitchen and living space. Outdoor camp shower (this is a 10 minute walk or a quick ride from the main area).
We also have 2 other private accommodations available onsite:
The Casita: A tiny home with 1 queen bed. External shared bathroom/shower. $85/night for retreat participants.
The Nomad: Tiny home built onto the back of a 1967 International (truck). Composting toilet and private shower. $120/night (1 queen and 1 twin futon).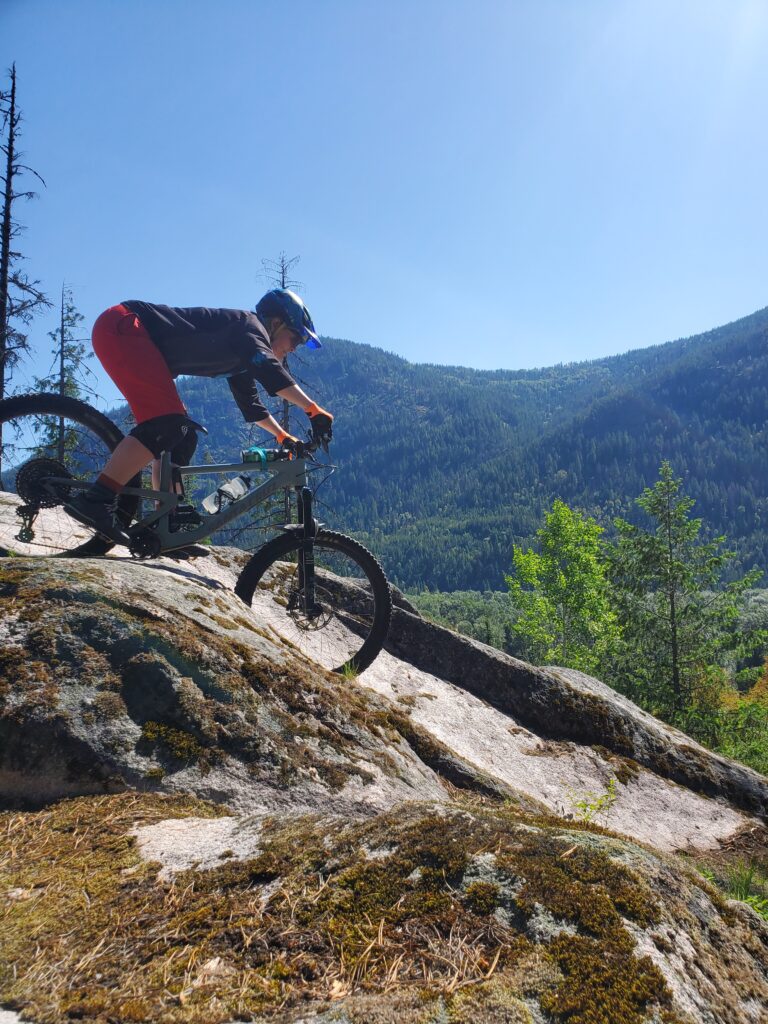 Read about our team
Please fill out the form below to register
Facilitators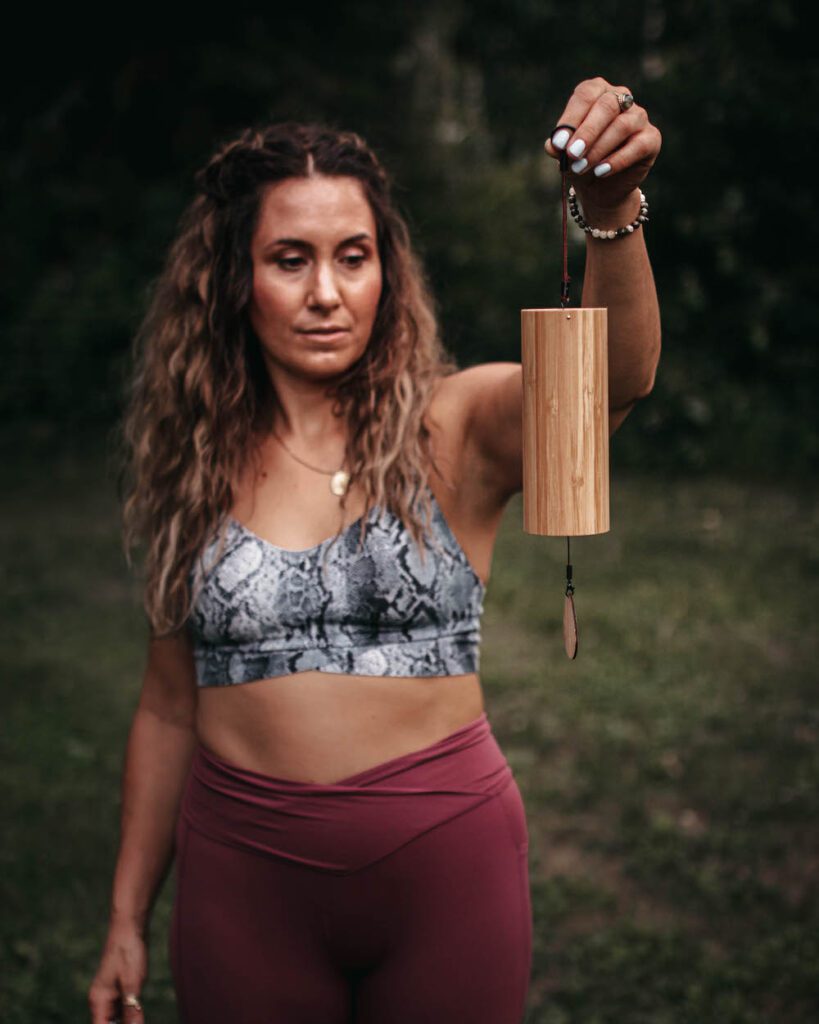 Chevayo Roddick will be leading the yoga classes and sound healing. She is also co-facilitator of the Retreat with Johanna. Chevayo has 200 Hatha Heart RYT (Nelson BC) , 200 RYT Vinyasa Yoga (Tulum, Mexico). And continuing education in Anusara yoga alignment and Trauma informed yoga. She is a certified Sound Healer and Wilderness first aid attendant.
With an upbeat energy, she encourages students to develop an inner awareness of body alignment and breath during their practice in order to build a safe and strong yoga foundation.

Chevayo' s offerings are intertwined with her diverse gifts, her unique off -grid upbringing and inspired by her love for the earth and all beings. Chevayo is passionate about helping people feel grounded and reconnected to their hearts. She hopes that her classes will bring you back home to yourself, help you feel the oneness of all things and reignite your love to move, breath and live a wild and playful life.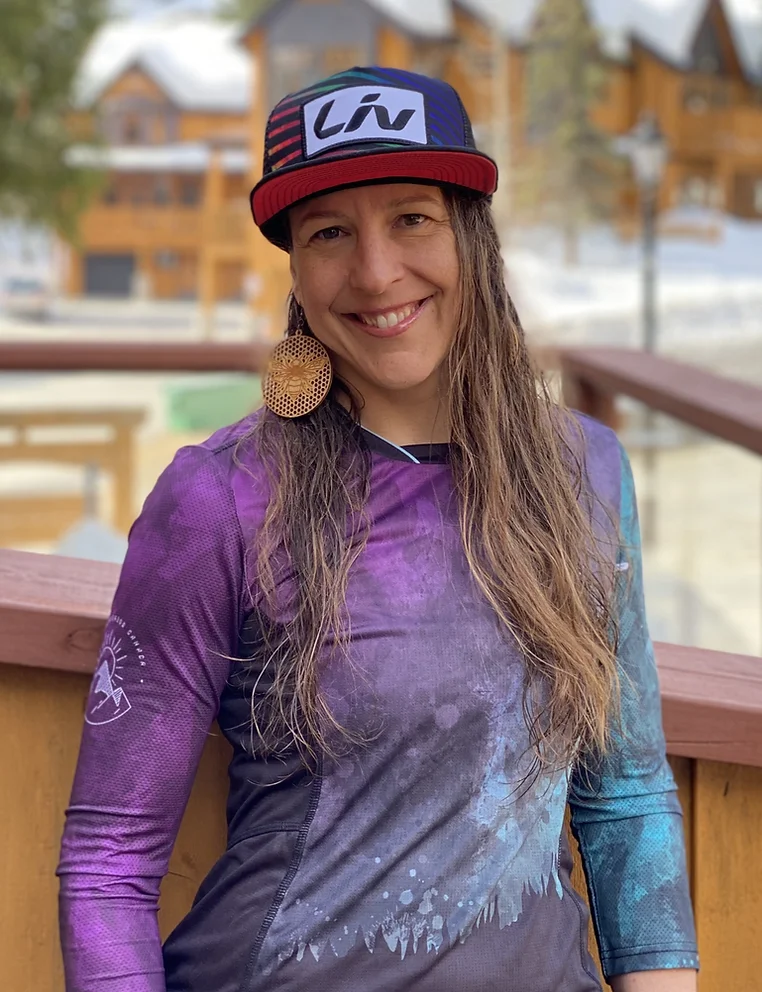 Natasha Lockey will be the head coach for both coaching sessions. Natasha and Ian founded Kootenay Mountain Biking out of their passion to share Mountain Biking with Kids and Adults alike. Happiest out on her bike or snowboard inspiring others to enjoy the sports as she does. Natasha started with her Women's Action Sports Community BettyGoHard back in 2002. This has expanded into KMB, Mountain Shuttle Transport and Kootenay Gateway.
​Originally from New Zealand, she loves being in action and inspiring others to get active and enjoy their ride.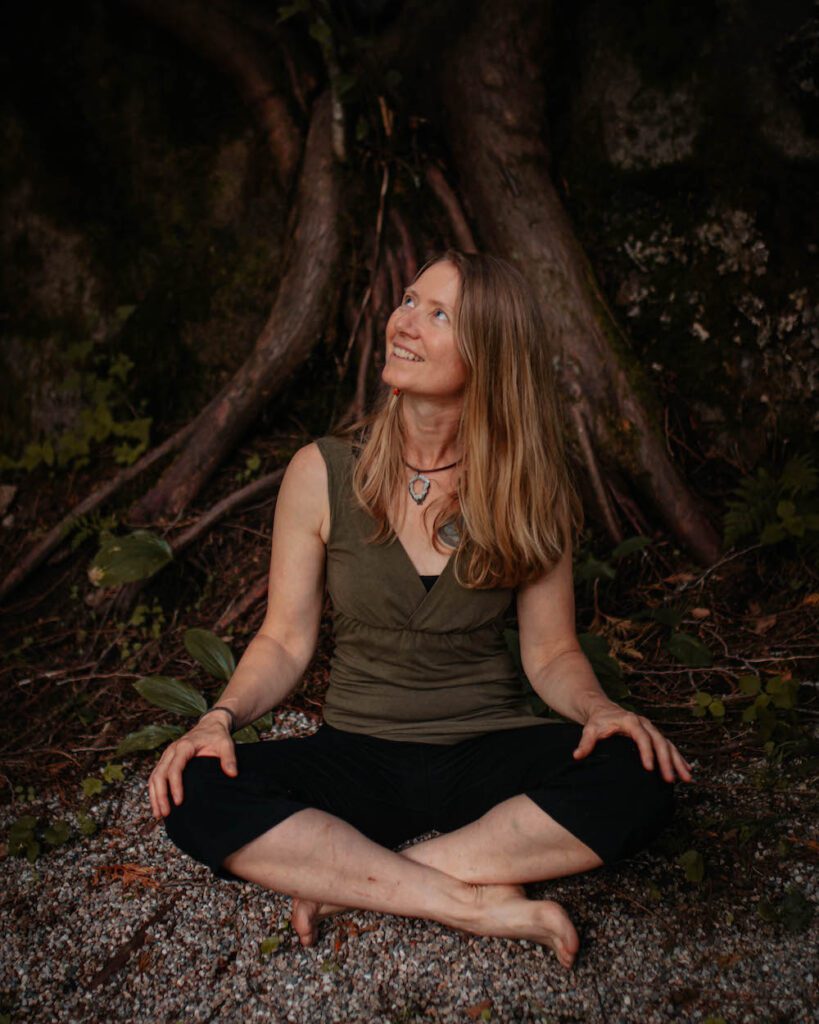 Johanna Mickle will be leading the guided meditations, preparing the meals and co-facilitating the Retreat with Chevayo.
Johanna developed a love of nature and trails while growing up in the Canadian Rockies, where she spent many years as a lodge chef and hiking guide, before moving to Colorado and eventually Salmo. Her lifelong dream has been to develop a property with trails and a gathering space where people can come to relax, be in nature and have space for personal growth. Johanna became a certified natural chef at Bauman College in Boulder, Colorado and is excited to prepare some delicious and nutritious food for the retreat.
When she is not busy managing For-rest Retreat with her husband Jon, she can often be found working on building new trails on the property (or out enjoying the trails with her dog Sunny)