custom soul sessions
Looking for something fun and different to do at your next gathering? What about treating your employees to a day of wellness and rejuvenation?
We are now offering our popular Soul Sessions to private groups, tailored to your specific needs. We can host groups of up to 14 people, with overnight options for up to 11 people right onsite and options for other accommodations nearby. Four packages to choose from, starting at $40/person.
DOWNLOAD OUR BROCHURE or CONTACT US for more information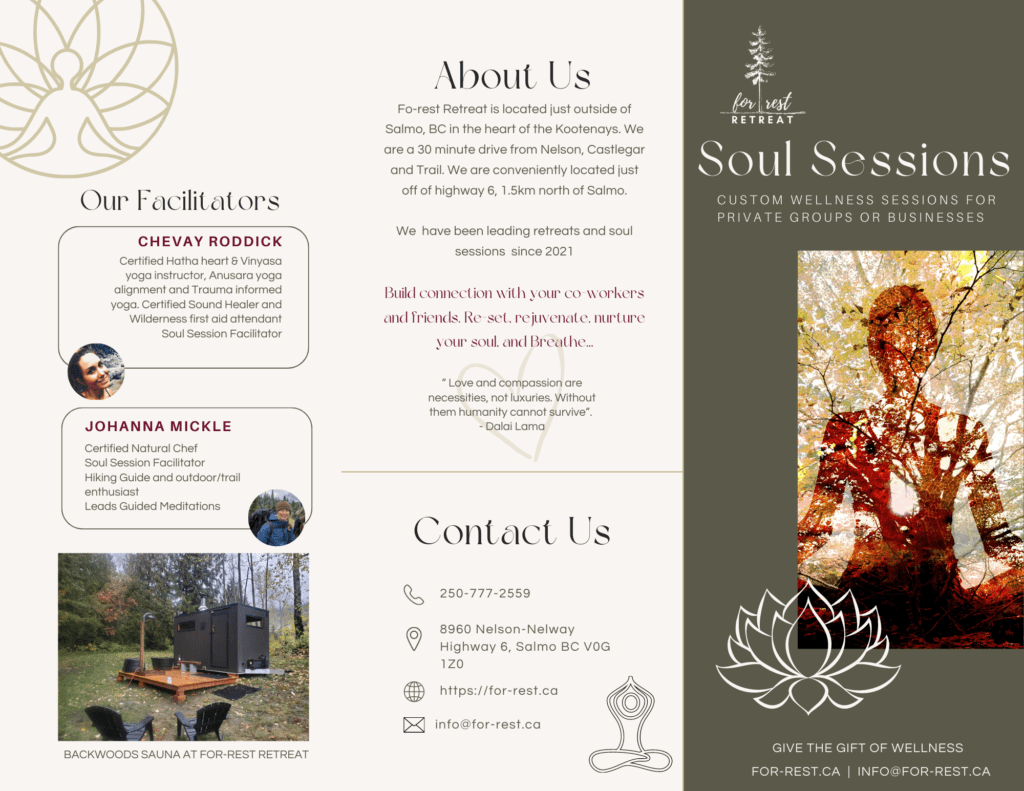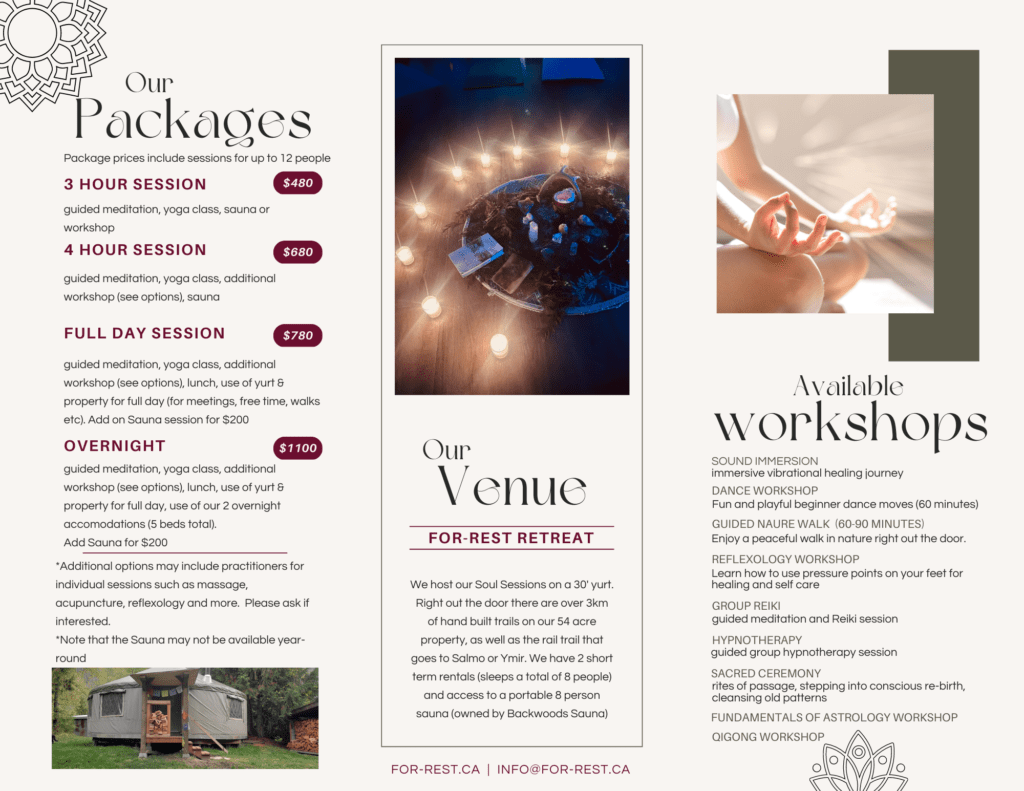 ---
Saturday, Oct. 28th, 2023
SAVE THE DATE!
We will be running our first Soul Session of the Season on Saturday, Oct. 28th.
---
PAST SOUL SESSIONS
Shake off those winter blues and make the most of the dark days by giving yourself the gift of wellness and connection.
We are hosting Soul Sessions once a month this fall/winter on Friday nights from 5:30pm – 8:30pm.
Meditation, Yoga, a different special offering every month, and of course, the sauna!
Soul sessions are $40/person for the 3 hour session and we allow a maximum of 10 – 12 people (depending on offerings).
Friday, March 17, 2023

Friday, March 17

Access Your Awesomeness

Ask yourself, when was the last time you felt like you were in the flow and at peace with your world? What if you could have more of that?

We invite you to shake off the weight of responsibility and worries and access more joy, more ease and more freedom in life!

Come for a fun workout and learn a sample of various dance party styles! We'll enjoy trying some shuffle, dancehall, house, basic top rocks, along with some isolations and belly dance conditioning to help us bring our best moves when it's time to hit the dance floor!

Join together to dance, move, laugh, breathe and let go!

Come with a friend, or solo, and connect with a community of like-minded souls.




5:30 – 8:30 PM
– Meditation
– Yoga
– Playful Dance Workshop
– Sauna

About Emily Jamieson: Emily has had the good fortune of participating in dance classes of various styles for most of her life and is so blessed now to share some of the fun with her community ❤
She feels that music and movement together are some of the most beautiful expressions of life that can transcend so many of the hardships of human experience and remind us of the infinite joy and light within and all around us. Also, that dancing is one of the most fun ways to stay fit in mind and body!
Friday, February 10, 2023

Friday, Feb 10

Heartspace Awareness and Exploration with Juliena Brown

Come spend an hour learning practices to sink into our deepest of selves. We will connect with entering our heart spaces through exploration of the breath, mindfulness and somatics, sound, and acupressure. TCM is a medicine of poetry and stories. It has taught me a new way of looking at and communicating with my body. It has helped me listen, learn and attune. Being that it is rooted in one's innate healing ability, this medicine empowers individuals to find their personal balance within the universe. Come inquire about the beauty and metaphor of the story you hold in your body. Honour your body and yourself through this practice.

About Juliena, R.Ac,RYT

I have dedicated the last 21 years to training and working in the health field through the modalities of traditional Chinese medicine, massage, yoga, mindfulness and sound healing. I am passionate about wellbeing and am committed to educating myself on new ways to reach optimal health. My work is based on the belief that we are whole multifaceted and that these healing tools can help us to realign with our true integrity. All the education and practice I've done in my life was to find essence, truth, depth and meaning. To commune with the aliveness in each of us, to acknowledge the energetic and to feel the pulse of the heart of life. To build resilience and capacity within our bodies and increase well being. I believe this work to be a vehicle for the understanding of self and other through curiosity, exploration and courage.

Come with a friend, or solo, and connect with a community of like-minded souls.




5:30 – 8:30 PM
– Meditation
– Yoga
– Heartspace Exploration
– Sauna
Friday, January 13, 2023

Friday, Jan 13

Self Care in the New Year

Take time for yourself and care for your body, mind and soul in this mini retreat. Meditation, Yoga Flow, Reflexology Workshop & Sauna Time.

Jackie Jonkheid will be joining us to lead self-care reflexology workshop that will focus on the Endocrine System and Digestion.

Your Hormones determine your personality and how you interact with people around you. Our endocrine system is constantly exposed to hormone disruptors in modern society.

This workshop will focus on how to help your endocrine and digestive system get back into balance and get strong enough to withstand influences from the outer environment. Nutritional tips to take home for better hormone function.

About Jackie

Health, nature and natural resources have held her interest since Jackie was a child. When she lived in the Dutch Caribbean in the 1980's, she came into touch with reflexology for the first time. Close friends wanted to have a child, and for eight years relied on mainstream medicine, with no result. Their friend suggested the couple try reflexology. After a series of reflexology treatments each, the couple conceived. That impressed Jackie so much, that she wanted to get to know more about this natural healing method. She began researching reflexology and using the acquired knowledge by applying the therapy on herself.

Initially Jackie worked in the environmental sector for several years. When her employer restructured the organization, she took the opportunity to develop her interest in reflexology. Two years after enrolling in the International Study of Naturopathic Reflexology at De Wouden Study Programme, she received her diploma, followed by a study of Mainstream Basic Medical Knowledge at the Arnhem University of Applied Sciences for Naturopathy in the Netherlands. As a practicing reflexologist member of the Reflexology Association of British Columbia, Jackie has an ongoing access to new insights and developments in this natural healing method.

Jackie has practiced reflexology at home and in public practices in the Netherlands and the Kootenays since 2002. It is her passion to help people feel good and create a feeling of blissful relaxation for people of all ages, even babies!

Come with a friend, or solo, and connect with a community of like-minded souls.




5:30 – 8:30 PM
– Meditation
– Yoga
– Reflexology Workshop
– Sauna
Friday, Dec 16, 2022

Friday, Dec. 16th

Manifest Your Heart and Soul's Desire

Discover the secret to living a life of meaning and purpose. Learn Sustainable manifestation tools to help live your truth and harness the magic to create the destiny you most desire.

**Update**
For the Soul Session this Friday, Clancy will no longer be able to make it. We are still hosting it and will be doing a slightly longer meditation and a 30 minute sound healing Shavasana after yoga, and more time for the sauna. Due to the change, this Soul Session will be $30 instead of $40 so if you would like to attend, please send an email to info@for-rest.ca.

Come with a friend, or solo, and connect with a community of like-minded souls.

5:30 – 8:30 PM
– Meditation
– Yoga
– Painting Workshop
– Sauna

Friday, Nov 18, 2022

Friday, Nov. 18th

Stoke your inner fire and light up your potential

Each day we are posed with new challenges: work, relationships, children, family, chores. With so much energy dedicated to our daily obligations, it's wildly important that we make the time to stoke our inner fire. This is your magical chance. In this retreat you will be reminded of who you are, and be invited to take time to devote yourself to just you for the evening. Together we will reignite our energy through reiki, meditation, yoga and sauna. Let's move, sweat and laugh! Connecting to the infinite power of ourselves. We invite you to join us on this journey!

Reiki is a Japanese technique for stress reduction and relaxation that also promotes healing.

REIKI – Rei which means "God's Wisdom or the Higher Power" and Ki which is "Life Force Energy".

So Reiki can then be defined as "Spirit guided life force energy".

Because reiki energy travels through the body exactly where it's needed, as it's needed, it can be used in a group setting beautifully. Each participant will have their own unique experience by setting their own intention for the session. The reiki practitioner will facilitate this experience by guiding the participants through a grounding and connecting meditation and then quietly sitting with each participant for a period of time to support the movement of reiki energy how they need it individually. At the end of the session the practitioner will guide the participants through a short meditation to promote balance and energetically bring everyone back into full awareness of their surroundings. ~

Come with a friend, or solo, and connect with a community of like-minded souls.

5:30 – 8:30 PM
– Meditation
– Yoga
– Group Reiki Session
– Sauna

Friday, Oct. 28, 2022

Friday, Oct. 28th

Samhain is the mid-point between the Autumn Equinox and Winter Solstice in the Celtic Calendar. Traditionally celebrated as Halloween – a time when the veils between the worlds become thinner and we gain access to the 'otherworld' – where we can reconnect with our ancestors and loved ones passed. The season takes us into the darkest quarter of the year, which affords us an opportunity to dive deep into the shadow parts of ourselves. This darkness has all the qualities of the feminine aspect, it's a time of submerging, releasing, receptivity, reflection and introspection as we wait for the re-emergence or 'rebirth' of the light on the Winter.

During this mini retreat we will invite Samhain practices to celebrate life and death. Have fun and let loose in a glow yoga flow, guided meditation and ceremonial circle honouring our ancestors. And then unwind in the sauna.

5:30 – 8:30 PM
– 10-15 minute meditation
– Glow Yoga
– Samhain Ceremony
-Sauna

Come with a friend, or solo, and connect with a community of like-minded souls.



During these darker days, let us celebrate the light and power within to embrace the magic and mystery of death and rebirth. In this sacred Samhain ceremony, we will honour our loved ones' past and our Ancestors. We will take you on a journey beyond the physical to the Spirit realm to gain wisdom and guidance from those beyond the veil. We will create a sacred space to embrace and empower by warming our hearts for the colder season ahead.