About the retreat
Join us at For-rest Retreat on Oct 1st & 2nd, 2022 for 2 full days of soul nourishment, connection, healing and growth through yoga, meditation, gratitude practice, reflexology, painting, sound therapy, sauna and more!

Sign Up
*If you are looking for accommodations, please send us an email at info@for-rest.ca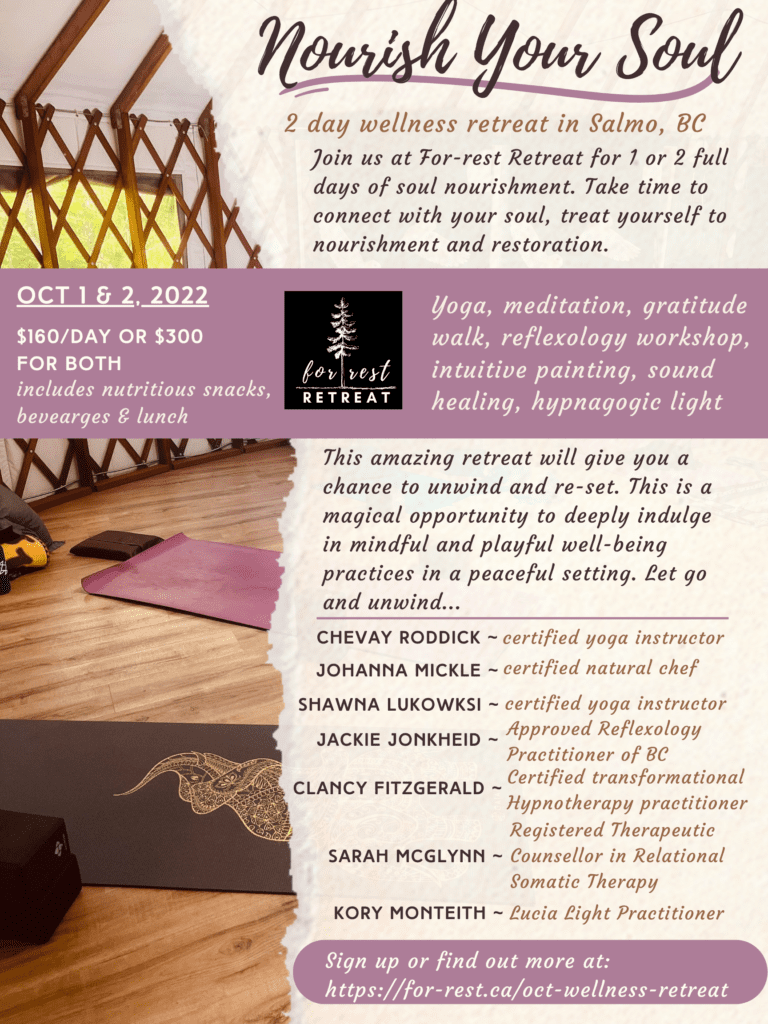 Questions?
Shoot us an email at info@for-rest.ca
---
Saturday, Oct. 1 Schedule
9-9:30 ARRIVE, INTRODUCTION, OPEN THE SPACE
9:30-9:45 MEDITATION WITH JOHANNA
9:45-11 YOGA FLOW WITH CHEVAY
11-11:30 SNACK BREAK
11:30-12:15 GRATITUDE WALK WITH CHEVAY
12:15-1:00 LUNCH
1:00-3:45 HYPNOTHERAPY & INTUITIVE PAINTING WITH CLANCY
3:45-4:00 SNACK/DRINK BREAK
4:00- 5:30 RESTORATIVE YOGA WITH SHAWNA
5:30 onwards: We will have the sauna ready for anyone wanting to take advantage before or after dinner (we will keep it warm for the rest of the eve until about 10pm)
Sunday, Oct. 2 Schedule
9-9:30 ARRIVE, OPEN THE SPACE
9:30-9:45 MEDITATION WITH JOHANNA
9:45-11 YOGA FLOW WITH CHEVAY
11-11:30 SNACK BREAK
11:30-12:30 REFLEXOLOGY WORKSHOP WITH JACKIE
12:30-2 LUNCH & FREE TIME
2-3 YIN YOGA WITH CHEVAY
3:00-3:30 SNACK/DRINK BREAK
3:30- 5:30 SOUND THERAPY WITH SARAH
5:30 onwards: we will have the sauna warmed up for anyone wanting to stay later to use it.
What to Bring
comfortable layers for inside and outside
yoga mat
rain coat
water bottle
journal and pen/pencil (optional)
hat for walk
pillow & eye covering for sound immersion (optional)
an open heart & mind!
About the Workshops
Meditation: A 15 minute guided meditation designed to set the tone for the day, bring you into the present, relax and prepare you for a day of reconnecting to what matters.
Yoga Flow: Chevay's classes are intertwined with her different trainings and inspired by her love for all beings, nature, and her deep curiosity of mind, body and spirit connection. She delights in encouraging students to develop inner awareness of body alignment and breath during the practice.
Gratitude Walk: A playful wander through the woods with a gratitude focused scavenger hunt.
Intuitive Painting: Clancy will be guiding the group through a relaxing group hypnotherapy session aimed to uncover and release blocks and open up to our heart's desires. A guided intuitive painting/writing session will follow the hypnotherapy.
Restorative Yoga: Restorative Yoga is a time to return to stillness and nurture oneself. It is a gentle, fully supported, active relaxation practise for physical and emotional wellbeing. Using props for support, the student is held in a pose rather than holding a pose.
Reflexology Workshop: In this fun reflexology workshop we will focus on 2 major points in life: a refreshing night's sleep to wake up energized and an optimal digestion for power! This will include tips and tricks to take home after the workshop.
Sound Therapy: Sound Therapy is a fast-growing modality used to alleviate many stress-related conditions (such as anxiety, insomnia, and high blood pressure to name only a few). As stress is a major cause for suffering and disease, sound is rapidly becoming known as a very versatile and powerful healing medium.
Using sound for therapy and healing has been shown to relax our nervous system, improve our state of mind and improve the function of our immune system. It helps with sleep and pain relief, brings us in tune with ourselves, and uplifts our vibration and state of being.
As we are essentially vibration and are impacted and influenced by our environment, we are exposed to unnatural and disharmonious vibrations every day. Traffic noise, building sites, computers, air conditioners or mobile phones and wifi, are examples that all impact our vibration and build stress in our bodies.
The principle of entrainment is one of the main components in the sound healing process. The idea is that if you project a steady, harmonious sound at a disharmonious one, it will eventually bring it into resonance with the harmonious sound. Our atoms, molecules, cells, glands, and organs all have a natural resonant frequency that can get 'out of tune'. Applying the correct frequency outside our body can stimulate sympathetic vibration inside and bring you back in tune.
Imagine receiving a gentle bath of sounds allowing your body to let go and move into a deeper state of relaxation.
Sound Therapy is effective in not only achieving a state of relaxation but it also has a way of moving through blockages in the body. Sound Therapy has been known to help treat such conditions as stress, anxiety, high blood pressure, depression, and pain.
Because there is such an opportunity to use both modalities together, I use Sound Therapy, as an integration tool in Relational Somatic Therapy sessions as well as, small group workshops connecting sound and body in a mindfulness-based approach.
---
About the facilitators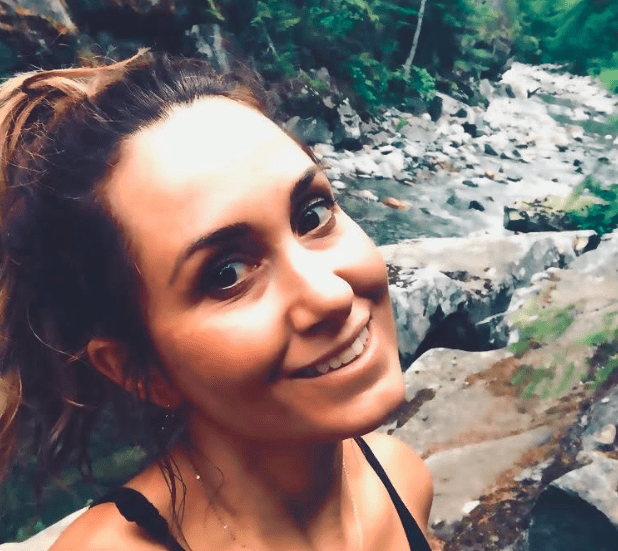 About Chevay Roddick
Chevay's love of yoga began at age 17 and the yogic philosophies have guided her life and continue to nurture her soul. She completed her 200hr Hatha training in 2013 and is passionate and humble to continue to always learn. Also attending a 200 hr Vinyasa training in Tulum, Mexico in 2016 and teacher training workshops in Anusara alignment. Chevay has taught at retreats, festivals and weekly classes for 8yrs.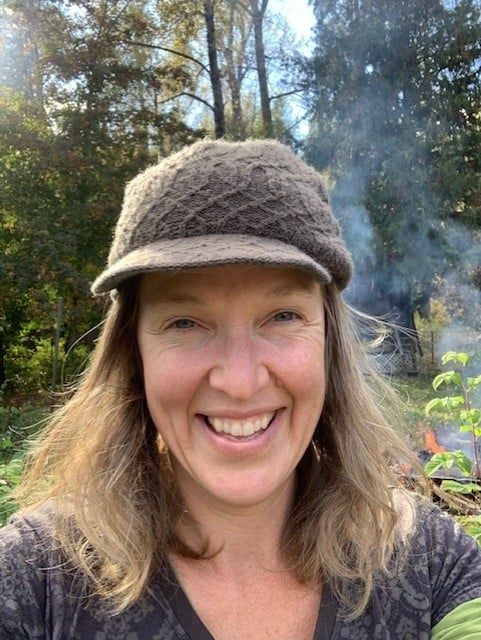 About Shawna Lukowski
Shawna Lukowski, RYT200 has been practising and loving yoga for over 20 years. In 2018 she completed her Yoga Teacher Training with the Heart Yoga Centre. This is where she was introduced to Restorative Yoga. In Restorative Yoga she found a place to weave her love of poetry and meditation into her love of yoga….. a perfect Union. She has found that Restorative Yoga is about creating and holding space as much as it is about the asanas. Restorative Yoga was Shawna's only yoga practise for a year while she journeyed through grief and loss. Shawna looks forward to sharing her Restorative Practise with you as you "Nourish your Soul" during this retreat. Namaste.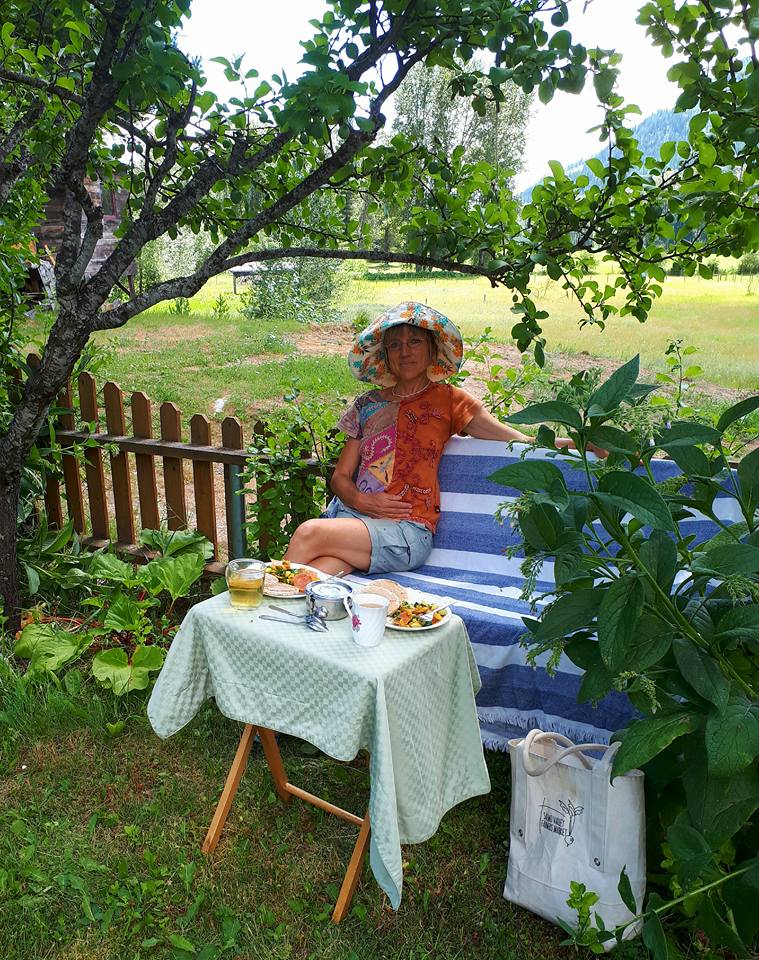 About Jackie Jonkheid
Health, nature and natural resources have held her interest since Jackie was a child. When she lived in the Dutch Caribbean in the 1980's, she came into touch with reflexology for the first time. Close friends wanted to have a child, and for eight years relied on mainstream medicine, with no result. Their friend suggested the couple try reflexology. After a series of reflexology treatments each, the couple conceived. That impressed Jackie so much, that she wanted to get to know more about this natural healing method. She began researching reflexology and using the acquired knowledge by applying the therapy on herself.
Initially Jackie worked in the environmental sector for several years. When her employer restructured the organization, she took the opportunity to develop her interest in reflexology. Two years after enrolling in the International Study of Naturopathic Reflexology at De Wouden Study Programme, she received her diploma, followed by a study of Mainstream Basic Medical Knowledge at the Arnhem University of Applied Sciences for Naturopathy in the Netherlands. As a practicing reflexologist member of the Reflexology Association of British Columbia, Jackie has an ongoing access to new insights and developments in this natural healing method.
Jackie has practiced reflexology at home and in public practices in the Netherlands and the Kootenays since 2002. It is her passion to help people feel good and create a feeling of blissful relaxation for people of all ages, even babies!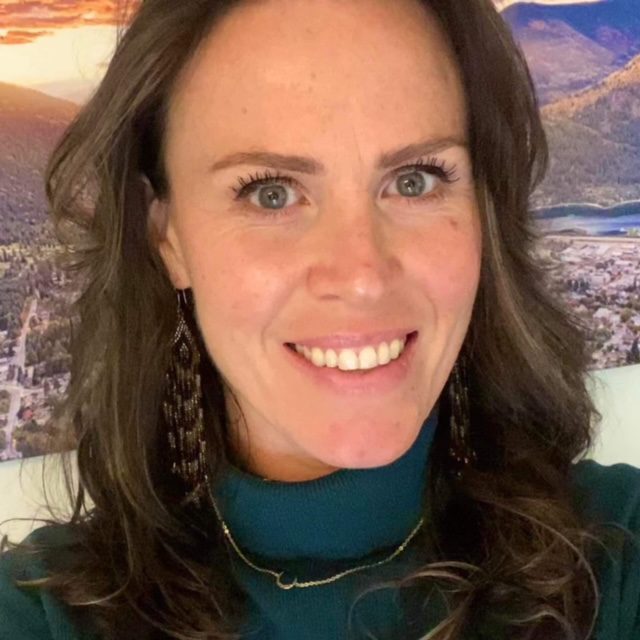 About Clancy Moonbeam FitzGerald
Clancy is a certified transformational Hypnotherapy practitioner and a Reiki master. She is passionate about guiding people to uncover their blocks and programs and reveal their authentic selves. At 42, she has been a lover of meditation since age 24. Clancy's friends call her a master manifestor. She has been skilled through her life at using the power of meditation, creative visioning and inspired action, to help bring her desires to life. She loves art, gathering with like minds, creating and being inspired, dancing and wellness, and exploring consciousness. She believes love will always conquer fear. Clancy lives in Nelson BC with her husband Eric, her children Lily and Leaf, (and two dogs and two cats) and also runs a thriving art studio.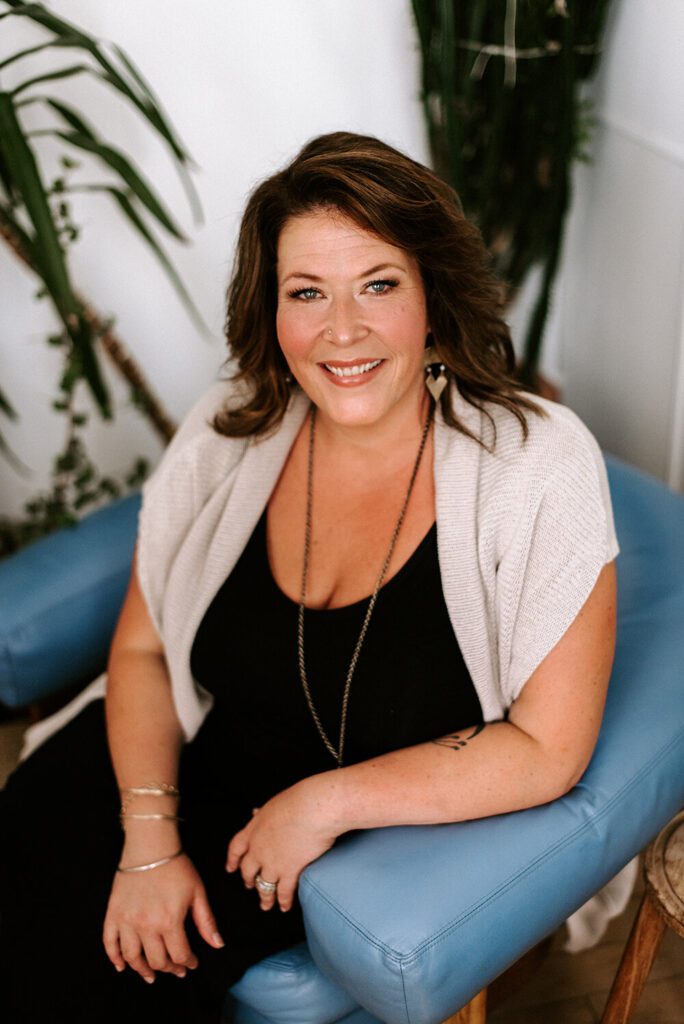 About Sarah McGlynn
Sarah is a Registered Therapeutic Counsellor (RTC), with a focus in Relational Somatic Therapy (RST). Her focus is on providing an integrative approach to therapy, supporting the mind and body connection. Relational Somatic Therapy Counselling, provides the opportunity for growth and resilience, while safely being with the parts of our life experience, that have been traumatic and difficult. https://www.soundbodyandmindcounselling.com/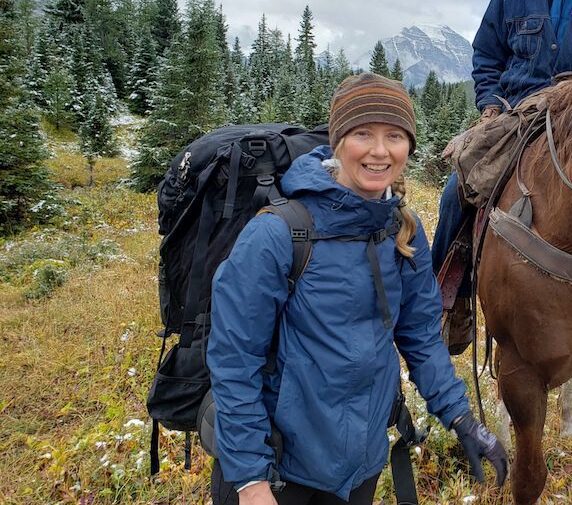 About Johanna Mickle
Johanna developed a love of nature and trails while growing up in the Canadian Rockies, where she spent many years as a lodge chef and hiking guide, before moving to Colorado and eventually Salmo. Her lifelong dream has been to develop a property with trails and a gathering space where people can come to relax, be in nature and have space for personal growth. Johanna became a certified natural chef at Bauman College in Boulder, Colorado and is excited to prepare some delicious and nutritious food for the retreat.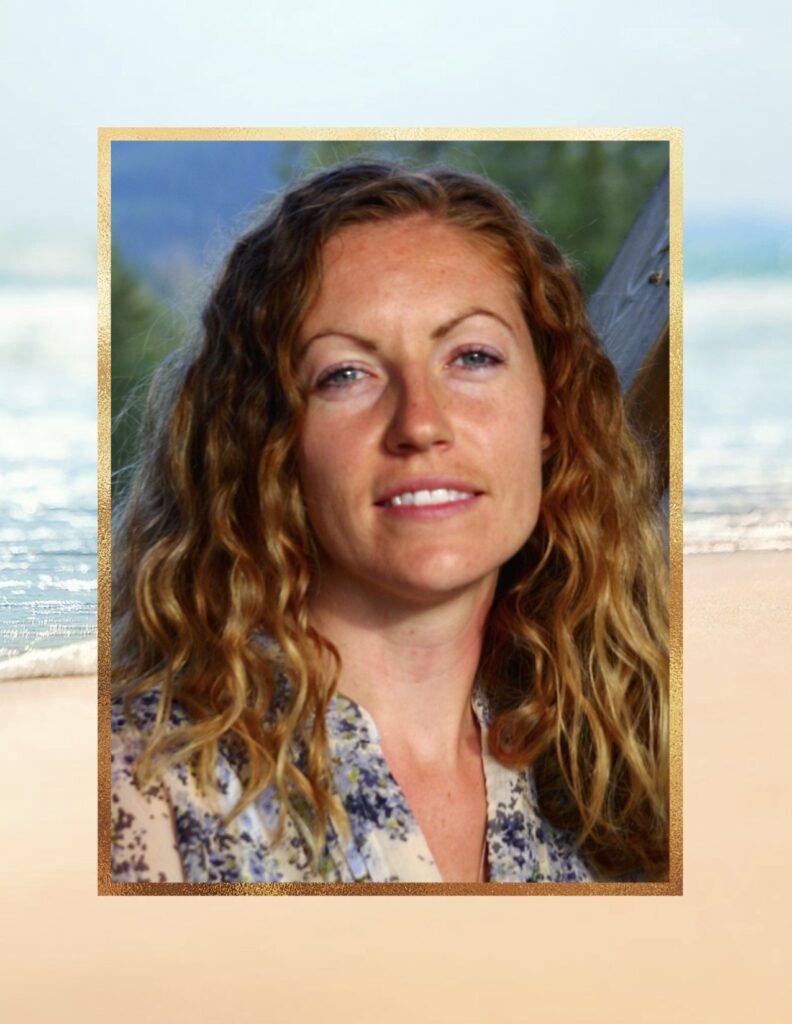 About Kory Monteith
Kory is a Holistic Allergist, Lucia Light Practitioner and Hypnosis Therapist. goldenclear.com